Xbook One X: Convertible Xbox Is On Its Way?
The custom-made item Xbook One X is simply a console modification for a Microsoft XBOX One. Let's explore more below!
What Is An Xbook One?
An original idea by Eddie Zarick who posted a video on his YouTube channel showing off his amazing creation, the Xbook One X is a custom made item by EdsJunk and is simply another gaming laptop. However, this is not a licensed Microsoft Product and should not be confused as such.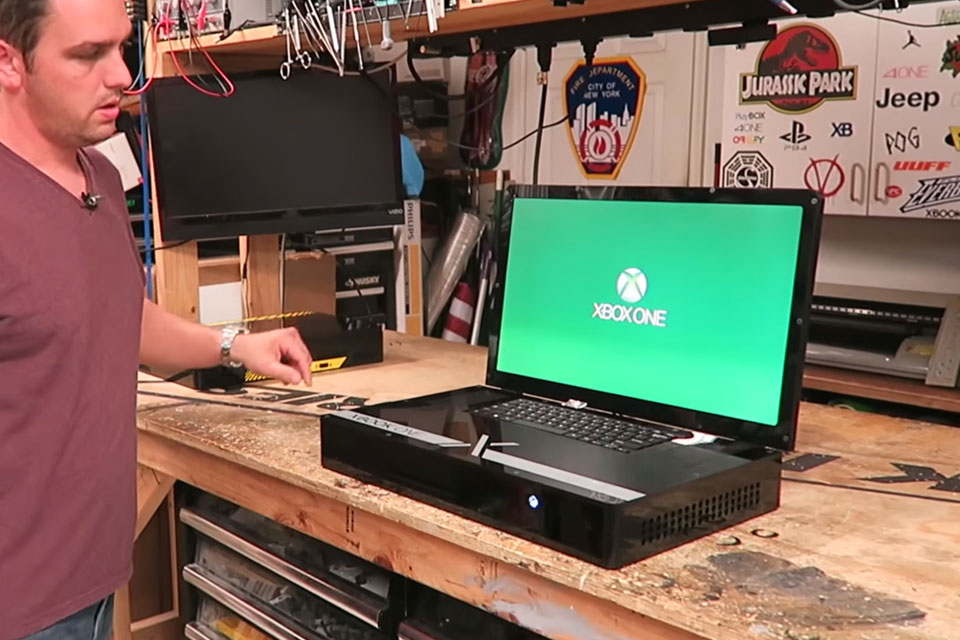 Zarick's previous creations used a smaller 19-inch display but they were limited to 720p so he decided to bump up to a 21.5-inch 1080p monitor for this latest project.
The console does retain its support for Xbox One controllers but it also gets to have a physical keyboard that can be used to navigate the Xbox menu. The console still retains its I/O ports even in its laptop form factor and they are located in the back. Do keep in mind you will lose one of the USB ports if you opt for a keyboard in your Xbook One X.
Specifications
There are five buttons for controlling all of the functions of the LCD on the front side of the system. As it is an actual View Sonic computer monitor, you have the options to adjust the audio, screen settings, etc by using the on-board buttons. Along with these specs, you will also have the disk tray, power, disk eject and controller sync buttons as well. There is also one USB on the front of the system for convenience.
On the back of the unit you will be able to use HDMI Output, if required by the user, to put the image on a big screen when the device is plugged in with 4k! Next on, there are going to be your power in, 2 USB ports (remember: there will be only one port if you order the keyboard option), Ethernet and optical audio output. The users will need only one power plug to power this system on!
Unfortunately, there is no option for any sort of batteries in these custom-made systems due to the fact the XBOX has not been designed to run on them (It is a very power hungry machine!!).
The system uses the in-built XBOX cooling to keep the system running even when gaming for extended periods. The gaming console itself has a great fan so the heat sinks are not been modified in any way. The air is sucked in through the bottom of the system and is exhausted out of the back!
Customization
There are some options to customize your XBOOK. After you place your order, email EdsJunk the details of your system and he will take care of the rest.
You may choose either white or black for the main case color.
You can choose any color when it come to the accents. You may put in the colors under the notes section of PayPal.
You can put your Live Gamertag on the system if you like.
If you want a custom themed XBOOK, you will need to contact EdsJunk directly as pricing on those system is higher.
Price
If you're eager to get your hands on the Xbook One X, you can do so via Zarick's website. The unit is in no way cheap and it can be purchased for $2,495. A $1,000 initial deposit is required when you place the order, the remainder is payable upon completion of your project.
Since these devices are custom, they take anywhere from two to three weeks to finish one modified console so expect a backlog. You can laso find other modifiable consoles at his website so go take a look if you are interested.